Pinyon Penny's pine nut recipes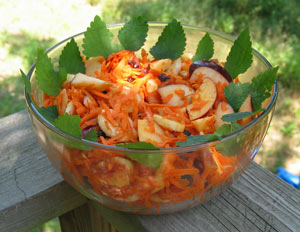 Why choose fresh American pine nuts?
When you purchase fresh pine nuts from us, you are choosing quality. Once the protective coating has been removed, the nut must be eaten, frozen or dehydrated. One can never recoup the taste and texture of a fresh product. There is no comparison between a fresh and a dehydrated pine nut.
Food for thought
In the Southwestern United States, pinon pinenuts have been a staple food for 10,000 years. While you may be accustom to imported pine nuts, it is important to understand that all pine nut species produce a different nut. The best pine nuts in the world come from American Public Lands. Our favorite is the large, Nevada soft-shelled pine nut. It is a complete, living food.
Roasting Pine Nuts
When roasting pine nuts as a snack food or traditional dish, pine nuts should be in the shell. Please see our step by step illustrated in shell Guide To Roasting Penny's Pine Nuts, DIY pine nut on the planet Nuts.
The actual time and temperature required for roasting depend on how much moisture is still in the nuts. The more moisture, the longer the nuts take to roast. The pinenut meat is very sweet and tastes every so slightly of the forest.
Place nuts on a foil covered pan. Cook 45 - 50 minutes at 325ºF.
You can wash them in a strainer, spread them on a baking pan covered with tin foil pop, then pop in the oven at 350º until a spooned out sample is translucent. Stir every 15 minutes, test every 5 minutes after they have cooked for 30 minutes.
MICROWAVE: Place 1/4 cups of pinon nuts in a paper bag with the end closed. Cook one minute.
Soaking Your Pinenuts
In good water for 12 -24 hours - they plump and peel easier. Taste becomes incredible. (Courtesy of LivingFoods.com)
Soaking Your Nuts in Vodka!
The drink in Siberia is called kedrovka. Pine that is so abundant in Russian taiga of Siberia.
You need a bottle of vodka filled to about 2/3 of its capacity. The rest is filled with pine nuts in the shell - half a cup. They will fall to the bottom. Close the cap and put it in a dark shelf for at least 3 weeks. When you see it next time it will be dark as brandy or darker. The longer you keep the darker it will get. The essential oils in the shell make it very smooth and soft, easy to drink. That is why the best are hard shell nuts, because they have a lot of the material in the hard thick shell. No need to filter or do anything with it but to drink in small shots, best chaser is pickle or marinated mushrooms. But make sure before you drink, chill it in the refrigerator, some people stick it to the freezer for an hour, it becomes very thick, with concentrated pine nuts smell and taste. Some people eat the nuts after the vodka is consumed, one can get drunk just from doing that. There is a believe that consuming an once of kedrovka before every dinner will keep you healthy for ever and very happy for a while. (Courtesy of Misha Spiegel)
Pokerounce
Take honey, and cook it in a pot until it grows thick; take and skim it clean. Take Ginger, Cinnamon, & Galingale, & add there-to; take white Bread, & cut two trenchers, & toast them; take your paste while it is hot, & spread it upon your trenchers with a spoon, and top it with Pine nuts, & serve forth.
INGREDIENTS:
Honey
Ginger
Cinnamon
Galingale
1 whole loaf bread
Pine nuts
DIRECTIONS: Cut off the top, bottom, and sides of the bread. Cut the remaining loaf lengthwise into pieces the same width and length of the loaf but about an inch thick; choose the best two and lightly toast them in an oven or broiler; set aside. Heat the honey in a large pot; skim off any scum that rises to the surface. When the honey has thickened, spread it onto the toast with a spoon, then top with pine nuts. Serve forth!
Shelling Your pine Nuts
Needed: Two terry cloth towels and a rolling pin.
1. Lay the soft-shelled pine nuts between the towels and roll firmly.
2. I have read, but not perfected the method of rolling with such persuasion that the shells stick to the terry cloth and pull away with the towel. Anyone with this degree of successes has perfected this method. If you are going to use your pine nuts that day or the next, freeze them. The shells are very brittle and crack easily. BUT, they do not keep after freezing.
Another Method: Hold the pine nut, large end up between the thumb and the forefinger. Place gentle pressure on the shell while rolling between the thumb and forefinger. It is rather like, snapping ones fingers. We always recommend waiting to take off the soft-shell right before consuming the nut!
Soft Roasted Nuts
Over the years, many of our clients have shared their pinon roasting methods. One thing is certain -- roasting is an art, not a science! Roasting is necessary to bring out the full flavor of a pinon nut. (No matter what you read, PINON or PINYON are a species of pine tree.) All pine nuts are different. Lots of folks want to claim to have pinon nuts -- they are the largest and best of the pine nuts. You may buy our soft shelled nuts in the fall!
CRUNCHY ROASTED NUTS
We roast a 25 pounds, (they keep forever) and set them on the table. At dinner, grab a handful and give them one hard crunch, then pick out the meats and sprinkle on everything. Roast in a 300 degree oven for 35 -45 minutes, unless you are enzyme conscientious, then roast longer at a lower temperature. You can also soak them in salt water first, its up to you.
PINENUT BASIL DRESSING
1 cup pine nuts soaked overnight
1 cup filtered water
2 cups fresh basil
1 Tablespoons Nama Soy
Blend soaked pine nuts in a food processor with basil, water, and soy until creamy.
PINENUT DRESSING
1/4 cup pine nuts
1/4 cup rice vinegar
1/4 cup soy sauce
1/4 cup water
1 tablespoon sugar
2 teaspoons dry mustard
Grind pine nuts in a blender. Add the vinegar, soy sauce, water, sugar, and mustard; blend well.
PINE NUT APHRODISIAC SOUP
1/4 C pine nuts
Egg yolks
2 C chicken
bouillon
2 Cream
Cayenne pepper
Puree a mixture of the pine nuts and the egg yolks in the food processor until you have a fine, smooth paste. Put this in a saucepan and add one cup of chicken bouillon and one cup of cream. The chicken stock can be added already at the food processor stage if you have difficulties in obtaining a smooth paste. This far the dish can be prepared hours in advance. Heat over a gentle fire constant stirring until mixture thickens. It must not however, be brought to a boil!
PINE NUT BRITTLE
Nonstick vegetable oil spray
1 cup sugar
1/4 cup water
2 tablespoons pine nuts
Spray heavy large baking sheet with vegetable oil spray. Stir sugar and water in heavy small saucepan over medium-low heat until sugar dissolves. Increase heat and boil without stirring until syrup turns deep golden, occasionally brushing down sides of pan with pastry brush dipped into water and swirling pan, about 7 minutes. Immediately pour out mixture onto prepared baking sheet, sprinkle with pine nuts. Working quickly and carefully (mixture is very hot and hardens fast), press tip of knife into edges of caramel sheet and gently stretch in all directions until caramel becomes thin and transparent. Cool completely. Break brittle into irregular large pieces. (Brittle can be prepared 3 days ahead. Store in airtight container at room temperature.)
PINE NUT COOKIE CUPS
Fill these with sorbet and/or sliced fresh fruit.
Nonstick vegetable oil spray
1/2 cup pine nuts, toasted
1/2 cup sugar
1/4 cup all purpose flour
5 tablespoons unsalted butter, melted
2 large egg whites, beaten to blend
1/2 teaspoon vanilla extract
1/3 cup pine nuts
Preheat oven to 350°F. Spray large baking sheet with vegetable oil spray. Finely grind 1/2 cup toasted pine nuts with sugar and flour in processor. Transfer to bowl. Mix in butter, egg whites and vanilla. Form 3 cookies by spooning 1 tablespoonful batter for each onto prepared baking sheet, spacing 4 inches apart. Using knife, spread each to 4-inch round. Sprinkle each round with 1 teaspoon un-toasted pine nuts. Bake cookies until golden around edges, about 10 minutes. Working quickly, run thin metal spatula around edges of cookies to loosen. Drape each cookie over inverted 3/4-cup custard cup, molding and crimping sides of cookie to shape (cookie cups will be shallow). Transfer cookies to rack. Repeat with remaining batter and un-toasted nuts, spraying baking sheet with vegetable oil spray between batches.
BASIL PESTO
4 cups packed fresh basil leaves, washed well
1/2 cup pine nuts,shelled then toasted until golden, cooled, and chopped fine
1/2 cup freshly grated Parmesan (about 1 1/2 ounces)
2 large garlic cloves, minced
1/4 cup plus 3 tablespoons
Extra Virgin olive oil
Have ready a bowl of ice and cold water. In a saucepan of boiling salted water blanch basil, a handful at a time, 2 seconds, transferring with a slotted spoon to bowl of ice water to stop cooking. Drain basil in a sieve and pat dry. In a food processor puree basil with remaining ingredients until smooth and season with salt and pepper. Pesto may be made 2 days ahead and chilled, its surface covered with plastic wrap. Makes about 1 1/4 cups.
PASTA WITH BROCCOLI-PINE NUT PESTO
8 cups broccoli florets (from about 1 3/4 pounds of broccoli)
1 pound bow-tie pasta
1/4 cup pine nuts
4 large garlic cloves
3 tablespoons olive oil
1 tablespoon white wine vinegar
1/2 teaspoon dried crushed red pepper
Grated Parmesan cheese
Cook broccoli florets in large pot of boiling salted water until just tender, about 6 minutes. Using slotted spoon, transfer broccoli to colander and drain. Add pasta to same pot of water and cook until tender but still firm to bite. Drain pasta; reserve 3/4 cup cooking liquid. Return pasta to same pot. With processor running, drop pine nuts and garlic through feed tube and chop finely. Scrape down sides of work bowl. Add broccoli, 1/4 cup reserved cooking liquid, oil, vinegar and crushed red pepper, process to coarse puree. Pour sauce over pasta; toss over medium-low heat until heated through, adding remaining cooking liquid as needed if sauce is too thick. Season with salt and pepper. Serve, passing cheese separately.
PESTO
2 cups fresh basil leaves
1/2 cup pine nuts
3 cloves garlic
1 cup parsley
Olive oil, approximately 1 cup Blend all ingredients in a blender, or pound in a mortar until they form a soft paste. The amount of oil used depends on the method. If you use the blender, it is best to make the pesto in two batches, using enough oil each time to cover the blades of the blender - about 1/2 cup. In the mortar method, add the oil a little at a time, until the paste has reached the proper consistency. It should not be too runny.
PESTO
2/3 cup firmly packed fresh basil leaves
2/3 cup firmly packed fresh mint leaves
2/3 cup firmly packed fresh parsley leaves
1/3 cup pine nuts
1/3 cup freshly grated Parmesan cheese
2 large garlic cloves, minced and mashed to a paste with 1/2 teaspoon salt
1/2 cup olive oil 1 tablespoon balsamic vinegar, or to taste
In a food processor purée basil with remaining ingredients until smooth and season with salt and pepper. Pesto may be made 2 days ahead and chilled, its surface covered with plastic wrap.
THYME PESTO
Parsley and thyme replace the usual basil in this sauce. Try it on cooked vegetables.
1 1/2 cups loosely packed fresh parsley
1/2 cup loosely packed fresh thyme leaves or 1 tablespoon dried, crumbled, plus 1/2 cup Fresh parsley
1/2 cup (about 2 ounces) grated Parmesan
1/2 cup toasted pine nuts
2 garlic cloves
1/2 cup olive oil
Finely chop first 5 ingredients in processor. With machine running, gradually add 1/2 cup olive oil. Continue processing until pesto is almost smooth. Season to taste with salt and pepper. (Pesto can be prepared up to 1 week ahead. Cover tightly and refrigerate.) Makes about 1 cup.
PINE NUT RICE DRESSING
1 cup Jasmine Rice cooked
1/3 cup onion, chopped
1/3 cup celery, chopped
1/4 cup pine nuts, toasted
1 tblsp. fresh parsley, chopped
1/4 tsp. salt
1/2 tsp. black pepper
1 cup chicken broth
1 egg, beaten
Paprika
The actual time and temperature required for roasting depend on how much moisture is still in the nuts. The more moisture, the longer the nuts take to roast. The pinenut meat is very sweet and tastes every so slightly of the forest. Once roasted they are a light butterscotch color. However, there are lots of different tastes and methods for roasting pine nuts (see above).